The THIXAR Silence platform guarantees a complete acoustical sepa­ration of your hifi equip­ment from the surface it is placed upon, because its top and bottom do not have a fixed connection. This keeps the hifi component – be it a player, an amplifier, a tuner, a turntable, a digital device – free from all sound-wrecking disturbances in a very effi­cient way. Freeing the music from all its constraints.
Audiophile THIXAR equipment platforms – The Fundamentals of Sound.

THIXAR Silence Plus is the top-of-the range product in our line of passive hifi equipment platforms. The all new gel technology support is being used in a revised form, allowing us to create an entirely new design. The upper support surface now rests completely on the gel without any impedi­ments. Preventing each and any vibration from reaching the parts that count.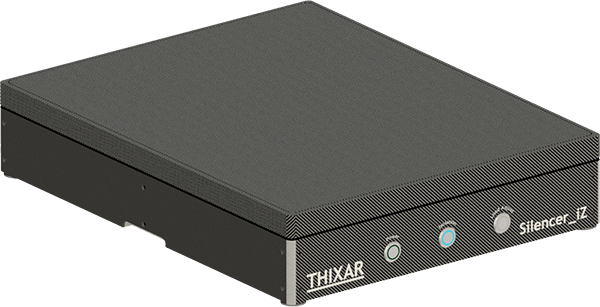 The THIXAR active damping system Silencer_iZ goes even one step further, reaching new hitherto unknown heights of insulation. Originally designed for nano technology labs, the Silencer_iZ is the planet's first system trans­fering this scientific achieve­ment to the world of high-end audio.